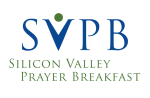 Silicon Valley Prayer Breakfast
April 1, 2016 at 7:00 – 8:30am
Santa Clara Hyatt Regency
Website: www.svpb.net
Finding God is a process. Reading and listening to stories of how God has touched the lives of people is one important way to start the process. It is for this reason that I author this Website and wrote the book Finding God in Silicon Valley.
Another wonderful way to hear inspiring stories of faith is at the Silicon Valley Prayer Breakfast. The event offers an opportunity to see how God has worked in the lives of the speakers and how He affects the way they live. The event is perfect for anyone who is curious about faith and wants to find out more. No one is put on the spot to pray. Instead, the event is simply an opportunity to observe how God transforms lives.  Continue Reading…